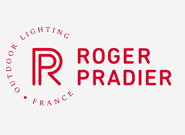 Since 1910, a timeless leader in outdoor lighting.
Designed and made in France.




Louis Philippe 7 Wall Light
Product Code:
8R136001xxx
Light source:
1 x E27 23W (max) LED or CFL
Materials:
Aluminium. Clear glass. Frosted glass diffuser.
Dimensions:
H 365mm x W 200mm x D 125mm
Brand: Roger Pradier
A stylish exterior wall light featuring hints of period charm, presented in a modern design. Available in a range of powder coated colour options, all featuring a 25 year anti-corrosion guarantee. Frosted glass bulb cover included, use is optional.
Rated IP44 for outdoor use.
Designed by Stéphane Joyeux and made in France.
RELATED ITEMS
Brick2 Model 1 Wall Light

Louis Philippe 1 Wall Light

Louis Philippe 2 Wall Light