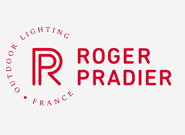 Since 1910, a timeless leader in outdoor lighting.
Designed and made in France.




Plemo Model 2 Wall Light
Product Code:
8R190002066
Light source:
2 x G9 9W (max) | Not Incl.
Materials:
Aluminium, Glass
Dimensions:
H 45mm x W 200mm x D 74mm
Brand: Roger Pradier
Plemo features a frosted glass module set in a precision cut Aluminium frame, surrounded by a magnetically fixed, protective and decorative fascia that conceals the lighting module within. The unit boasts a unique fixing mechanism which locks in and out by simply pivoting the lamp, making it easy for the user to affix and making installation and replacement of the lamp easy. It is completely waterproof, and is designed to shed dust and dirt thanks to a shallow guttering system that enables air and water to run down from the top of the lamp over its surface. Available in a wide range of colours.
Rated IP65 suitable for outdoor use.
Designed by Stéphane Joyeux and made in France.