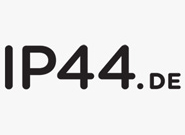 Uncompromising, perfect outside luminaires.
"Every Space Deserves Great Light".
Designed and made in Germany.




Glim Portable Lamp
Product Code:
4I93910-BB
Light source:
0.5W LED (Built-In) | 2700K | 15lm
Materials:
Aluminium, Acrylic
Dimensions:
Ø 16mm x H 330mm | Base Ø 100mm
Brand: IP44.DE
Pure elegance in a reduced designed language for cosy table illumination. This re-chargeable lamp features a magnetic luminaire pole, inspired by traditional candle sticks, which also works when separated from the base meaning it can be magnetically mounted to other metallic surfaces where light is required. Available in Jet Black, Pearl White, Bright Bronze and True Gold.
Rated IP65 suitable for outdoor use.
Rechargeable by USB-C.
3 Step Dimming (Built-In), Up to 28 hours of light at lowest setting.
Designed by Klaus Nolting and made in Germany.