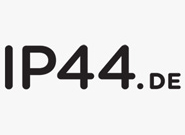 Uncompromising, perfect outside luminaires.
"Every Space Deserves Great Light".
Designed and made in Germany.




Gic Wall Light
Product Code:
4I93250-BL
Light source:
8W LED (Built-In) | 2700K | 360lm | Dimmable
Materials:
Aluminium, Glass
Dimensions:
H 240mm x W 140mm x D 154mm
Brand: IP44.DE
The concept of Gic is to allow countless creative possibilities by using inter-changeable back plates. The elegant frame is available in Anthracite, Pure White or Deep Black while the accent backing surface is available in a variety of finishes and materials, giving every luminaire its own personality (pricing varies).
Price shown is for Deep Black frame with Deep Black cover.
Rated IP65 suitable for outdoor use.
Designed by Klaus Nolting and made in Germany.