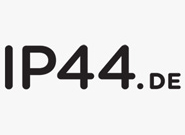 Uncompromising, perfect outside luminaires.
"Every Space Deserves Great Light".
Designed and made in Germany.




Cherry Bubbls Portable Lamp
Product Code:
4I93850
Light source:
7 x 1.5W LED (Built-In) | 2700K | 60lm
Materials:
Silicone, Glass
Dimensions:
5700mm Light Chain + 2000mm Cable to power bank
Brand: IP44.DE
Inspired by the soft illumination of glow worms, this simple yet refined light chain can be hung anywhere from trees to railings, wherever subtle light accents are pleasing to the eye. The power bank energy source makes this even more flexible, with the ability to leave the light chain in place and charge the power bank remotely. Also available with a Solar charging option (price varies).
Rated IP65 suitable for outdoor use.
3 Step Dimming (Built-In), Up to 40 hours of light at lowest setting.
Red Dot Award Winner 2023.
Designed by Klaus Nolting and made in Germany.