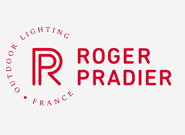 Since 1910, a timeless leader in outdoor lighting.
Designed and made in France.



Bark Model 1 Bollard
Product Code:
8R191001105
Light source:
41W LED (Built-In) | 2700K | 4500lm
Materials:
Aluminium, PMMA
Dimensions:
H 2197mm x W 387mm x D 387mm
Brand: Roger Pradier
Bark is robust, with a 6mm thick external shell that's like a thick layer of bark to ward off the vagaries of the weather. Bark's pole or trunk plays a dual role: It's there to support the weight of the main light module that sits atop it but also provides a luminous marker nearer to ground level thanks to a light source integrated in the lower section of the pole. To simplify its installation, the top is removable and the pole contains an electrical access hatch. Available in a wide range of colours.
Rated IP65 and IK07 suitable for outdoor use.
Features a 25 year anti-corrosion guarantee.
Designed by Stéphane Joyeux and made in France.