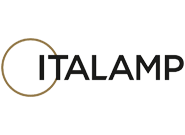 Elegant and precious lighting, designed and made in Italy since 1975.
Axi Pendant
Product Code:
6IT1805/SO
Light source:
3800lm | 4000K | CRI>90
Materials:
Metal, Glass
Dimensions:
L 1690mm x H 320mm x W 320mm | 1000mm Cable
Brand: Italamp
Axi is a chandelier with a 'retro-futurist' aesthetic, composed of a tubular structure in white borosilicate glass containing an LED light source. The design is interspersed with metal elements from which, extend arms whereby coloured art glass panels are fixed, gravitating around the central element. These elements have a curved and textured surface, which filters the light with plays of transparency and refraction.
Rated IP20 suitable for indoor use.
Customizations available on request.
Dimmable 0-10V, other dimming standards available on request.
Designed by Patrick Jouin iD and made in Italy.