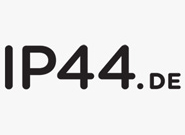 Uncompromising, perfect outside luminaires.
"Every Space Deserves Great Light".
Designed and made in Germany.




Aqu S Portable Lamp
Product Code:
4I91910-TG
Light source:
1.5W LED (Built-In) | 2700K | 75lm
Materials:
Crystal, Aluminium
Dimensions:
Ø 240mm x H 231mm
Brand: IP44.DE
A luminaire that is not just aesthetically pleasing but also highly intelligent. This hybrid luminaire collects energy during the day and emits it in the form of pleasant illumination in the evening. Its integrated solar panel and efficient battery provide many hours of warm and welcoming brightness. If enough power is not available from the sun, the luminaire can be recharged using the USB port.
Available in Bright Bronze, Jet Black, Pearl White and True Gold.
Rated IP65 suitable for outdoor use.
Built-in 3 step dimming, up to 24 hours of light at lowest brightness.
Designed by Klaus Nolting and made in Germany.