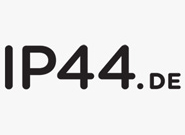 Uncompromising, perfect outside luminaires.
"Every Space Deserves Great Light".
Designed and made in Germany.
Gap Q Wall Light
Product Code:
4I91100-Q-AN
Light source:
2 x 5.4 LED (Fixed) | 3000K | 660lm
Materials:
Aluminium, Opal Matt Glass
Dimensions:
H 120mm x W 112 mm x D 120mm
Brand: IP44.de
Exterior wall light also available in white and cool brown. Dimmable with most leading or trailing edge dimmers. Rated IP65. Designed by Klaus Nolting and made in Germany.